Position Opening: Expert in Digital Fabrication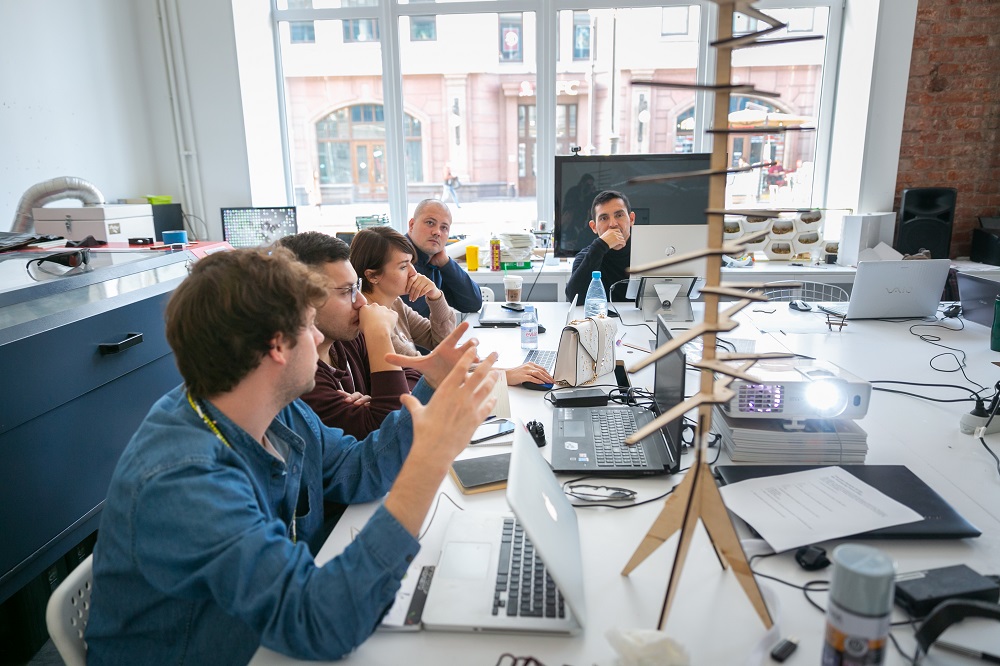 International Laboratory for Experimental Urban Design 'Shukhov Lab' of the National Research University Higher School of Economics (Moscow), Faculty of Urban and Regional Development, seeks experienced and motivated expert in digital fabrication.
We are looking for a lab's digital fabrication leader - architect, engineer, urban planner, urban designers or a specialist from related areas who is willing to develop an international research, project and teaching career.
Local (Russia-based) and international candidates are welcomed to apply. 
Fab Lab Academy graduates are more than welcomed!

Shukhov Lab mission and research area
Shukhov Lab's mission is to help cities to become more livable, resilient and ecological with help of emerging technologies. We are working on several research topics connected with sustainable and smart city development.
Some of the research topics that are interesting for us are:
Self-sufficient buildings and urban habitat;
New technologies for mass housing construction and public spaces (development and implementation);
Green technologies for urban environments;
Job Description

Position Title: Expert in Digital Fabrication
Position Location: Moscow, Russian Federation, National Research University Higher School of Economics.
Your key zones of responsibility will be:
to lead or to be part of the international research and project teams;
to apply new techniques to specific solutions through design / to produce prototypes;
to initiate and to develop consistent and up to date research and projects;
to develop industrial partnerships;
to publish, present and disseminate the research to the global community;
to collaborate with Lab leadership and stakeholders to develop the Lab's future vision and research agenda;
to train and manage student's digital fabrication projects at the international master program 'Prototyping Future Cities', workshops and international summer/winter schools.
Requirments
Key soft skills expected:
ability to work independently;
ability to articulate ideas in a coherent way;
analytic skills that demonstrate the ability to understand problems and to choose solutions that address the problem;
highly developed negotiation and communication skills;
leadership and project management skills;
public speaking and presentation.
Key hard skills expected:
knowledge of digital fabrication and prototyping tools (laser cutting, 3D printing and scanning, CNC milling an other);
demonstrated understanding of interaction design, sensor technologies, data analytics and its applications to urban planning/design;
computer aided design;
electronics production and design;
writing and speaking fluently in English (other languages will be beneficiary);
Optional: Quantitate and Qualitative Analysis; application development; GIS analysis; Big Data analysis; AI; VR/AR; Machine Learning; basic financial management; any other hard skill related to urban analysis and urban design will be beneficiary.
What do we offer?

creative enviromenment;
interesting research topics of global importance;
possibility to develop the research topic of your interest;
possibility to meet and to work with the best international experts in field of urban development;
international trips and trips around Russia;
possibility for self-development in research, projects or/and teaching;
convenient working schedule;
full access to digital technologies of the Lab;
nice office in center of Moscow, 10 min walking from Kremlin and Red Square. 
Salary will be commensurate with the successful candidates' skills and experience.
How to apply?

We invite interested applicants to fill in the form to apply for this position. 

The form includes:
your contact information;
description of your previous experience;
your motivation to work in Shukhov Lab;
CV and portfolio of sample work attached.
An applicant should be ready to provide letters of recommendation or contacts upon request.
Learn more about Shukhov Lab
Shukhov Lab recent research projects
Facebook   
Instagram    
YouTube
Master program 'Prototyping Future Cities'
Contact 
Nadia Khort, Shukhov Lab general manager, nkhort@hse.ru 


Have you spotted a typo?
Highlight it, click Ctrl+Enter and send us a message. Thank you for your help!
To be used only for spelling or punctuation mistakes.