Green Spark at the Deutsches Hygiene Museum
Elena Mitrofanova and Ivan Mitrofanov, Shukhov Lab leading experts, presented 'Green Spark' in Dresden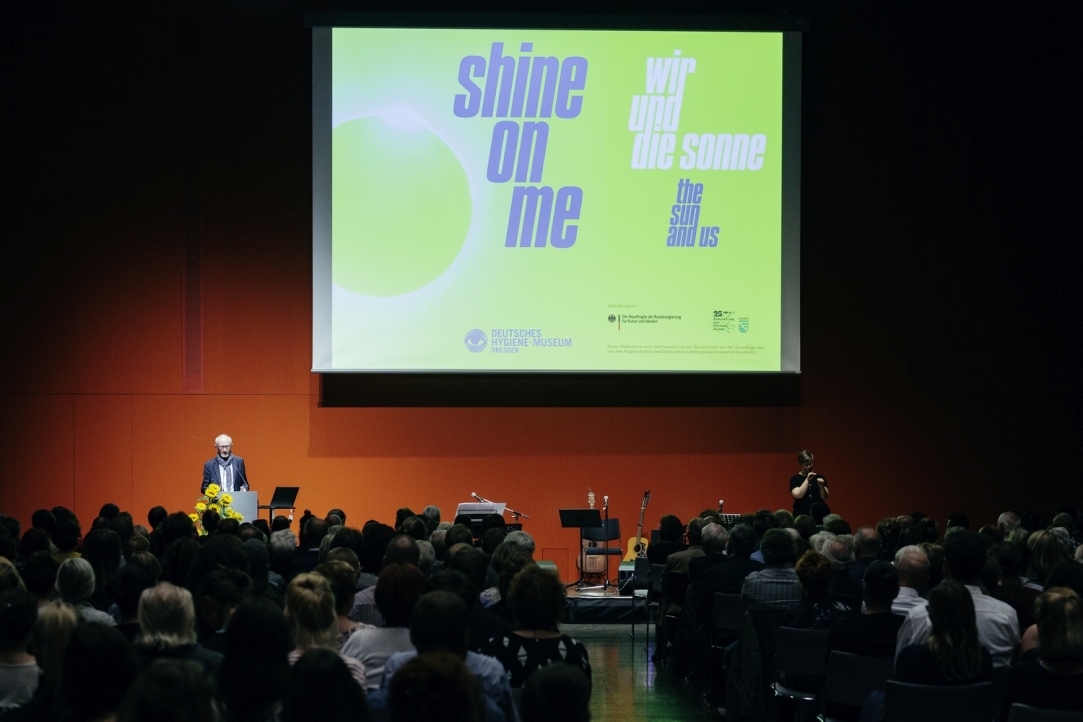 On September 28 Elena Mitrofanova and Ivan Mitrofanov attended the opening of the 'Shine on me' exhibition at the Deutsches Hygiene Museum in Dresden. The 'Green Spark' project done by Shukhov Lab leading experts was presented as a part of the exposition. 'Green Spark' shows the cutting edge technology where plants are used to produce renewable energy. It works due to plant-microbial fuel cells, PMFCs (photosynthetic microbial fuel cells) which use the natural process of photosynthesis to generate electrical energy. In this process plants using light energy consume carbon dioxide and water from the environment to convert it into organic compounds.
'Shine on me' is a large-scale special exhibition aimed at looking at the Sun from all sides. There are seven 'orbits' circling the Sun from various perspectives: the Sun as deity, as an instrument of time, a symbol, a luminous force, a remedy, an energy source, and of course as a star at the centre of our very own universe. The exhibition will take place till 18 August, 2019.
The Deutsches Hygiene Museum is an open forum for discussion, open to everyone who is interested in the cultural, social and scientific revolutions taking place in our society at the beginning of the 21st century. Learn more...
Credits
Shine on me
Curator: Catherine Nichols
Design: raumlabor, Berlin
Green Spark
Authors of the project:
Elena Mitrofanova
Ivan Mitrofanov
Shukhov Lab, HSE Graduate School of Urbanism
Los Mitros //
Scientific development:
Prof Chris Howe
Dr Paolo Bombelli
Department of Biochemistry, University of Cambridge
Team:
Paweł Akimov, Michael Sokolov, Einar Kulbaev, Michael Omona, Neeraj Mazumder, Altynai Nogoibaeva, Anna Budnikova, Bek Zholdosh Mederbekov, Shukhov Lab, HSE Graduate School of Urbanism
Moscow Polytechnic Museum
Production: Alexander Tretyakov, Project Fabrika 317